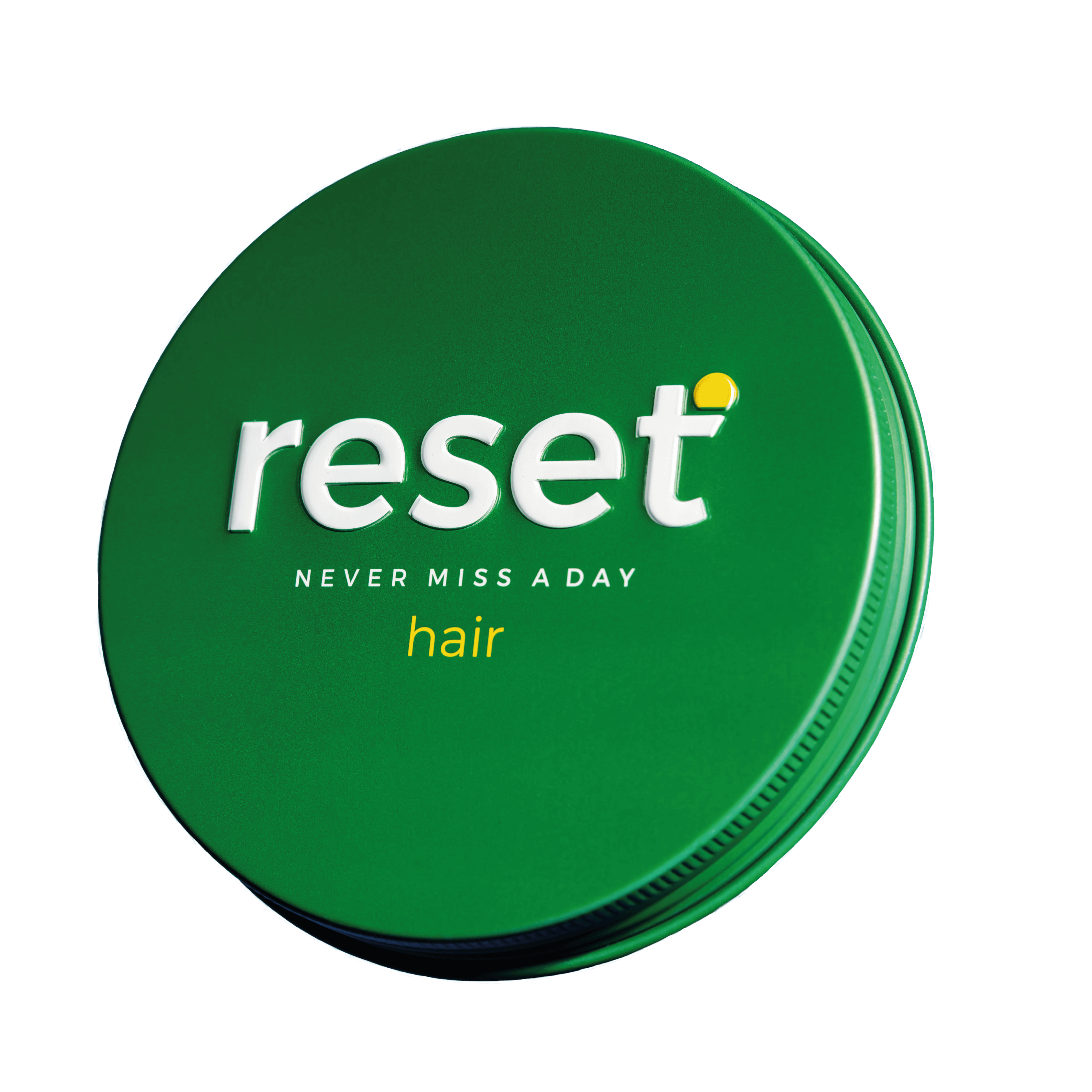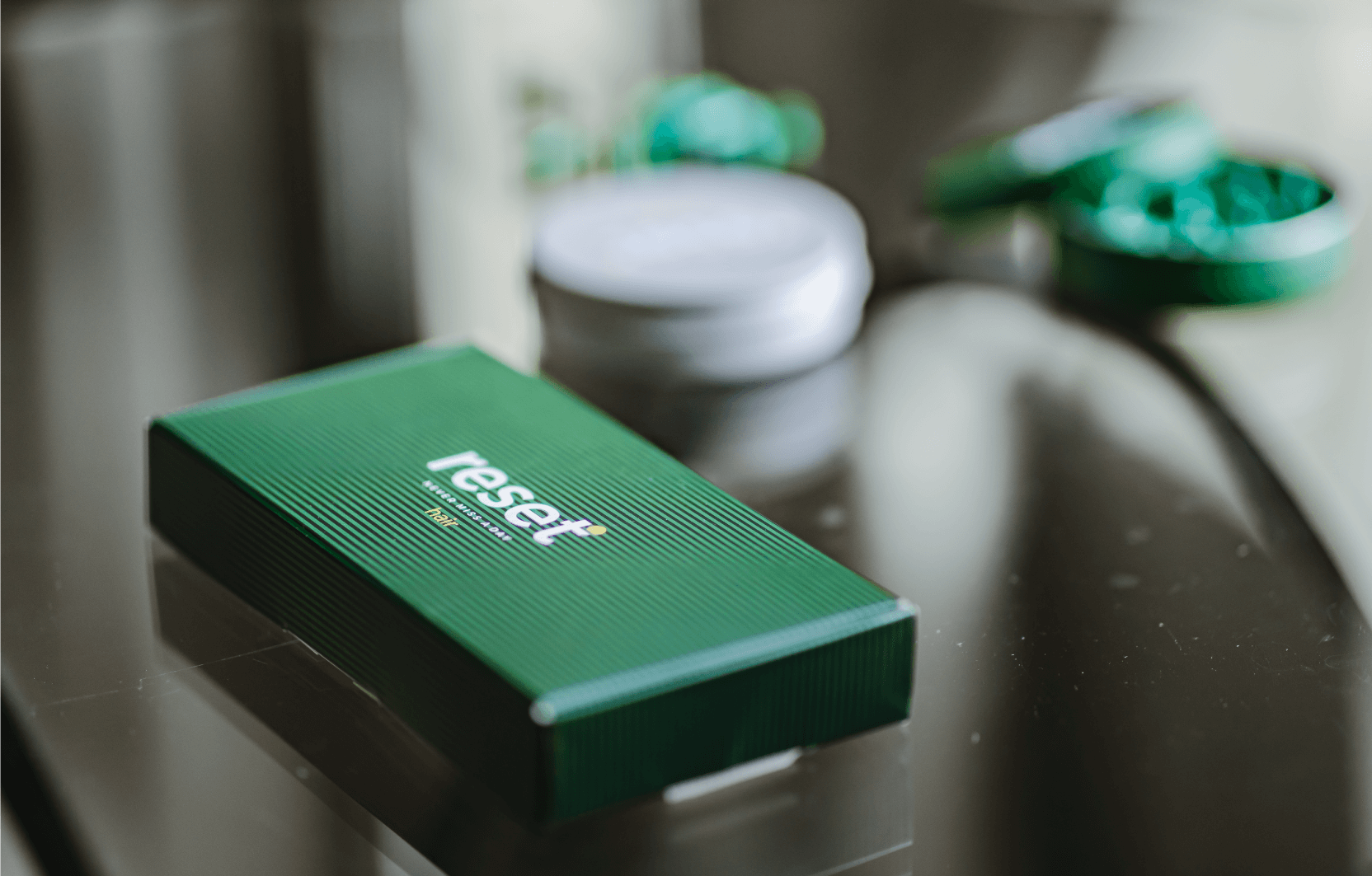 ---
Reset Hair | 120 capsules (2 months)
During the scientific research of Reset AfterDrink and Reset Recovery, we have discovered that the added vitamins and amino acids also strengthen the hair follicle. That is why we have developed a strong hair supplement sourced from Reset Recovery with Zinc and an extra high dose of Biotin. Reset Hair is a strong 2 - component food supplement for daily use. It contains a combination of selected vitamins, nutrients and amino acids. Reset Hair ensures healthy and strong hair. 
We have seen many promising results of hair being strengthened, allowing hair to be preserved longer and even grow back. 

Note that it is important that results become noticeable after three months of daily use.
Content: 60 white capsules + 60 green capsules
Strengthen your hair long-lasting
You will receive 1 package called 'Reset Hair. it contains 2 cans:


- 1 can Reset Hair with 60 green capsules 
- 1 can Reset Activator with 60 withe capsules 

These two cans belong together. One dose consists of 1 green and 1 white capsule.
Why do I need Reset Hair?

Healthy hair and strong nails are a sign of good health. Illness, fatigue and stress can affect the appearance of your hair. 

Reset Hair is good for maintaining and restoring hair. Reset Hair is a specially formulated 2-component nutritional supplement, amino acids and vitamins. Besides our main proven ingredients, we have added a high amount of Biotin and Zinc. These are important nutrients supporting hair and nails. Biotin contributes to normal hair growth and strong hair. 
Take every day before you sleep 1 green and 1 white capsule. During the evening your body recovers, this is the moment when your body needs the right nutrients to remove the radicals from your body and absorb the vitamins and amino acids.
Why use daily for more than 3 months?

It is important to know that you have to give your body time to adjust to the nutrients from the vitamins. So don't expect immediate results like with an aspirin, this takes time. In your first month, your body is mainly busy getting used to the new vitamins. By the end of the second month, the first effects will be noticeable. You will only really start to see the benefits and notice what the vitamins do for your body after 90 days. Important for this is that you take your vitamins daily, so you get optimal results.
What makes Reset Hair unique?

Most hair products focus on 1 or 2 of the many active ingredients. While Reset hair contains a combination of the best active ingredients which is also more than sufficiently dosed.

We need to separate some ingredients from each other due to shelflife reasons. Now you can store Reset Recovery for at least two years!
Why is one can called 'Activator'?
Most important ingredients

The capsules in the Reset Hair can:
-Biotin 10MG
-MSM
-Zinc

The capsules in the Reset Activator can:
-Gluthatione
-Cysteine
-Vitamin C
-Thiamine B
-Vitamin B6
-Vitamin B10
Tips for constantly taken Reset Hair

So your focus for the first month is mainly on constantly taking your vitamins and building a new habit. Research shows that it takes 21 days to learn a new habit, we have 3 tips here in advance that will help you do this:

- Put your vitamins in a place where you see them every day, e.g. the bathroom or kitchen.

- Choose a fixed time in the day when you take your vitamins, e.g. breakfast or dinner.

- Set a daily reminder in your phone around this fixed time.